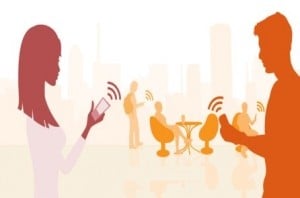 Whether you're looking for Mr. or Ms. Right – right now, do you know there's an app for that? Fortunately, we are living in the fast paced, mobile age where you can meet anyone, anywhere, just by using your smart phone.
Contrary to popular belief, online dating, i.e. computer dating, was particularly in the 1960s and 1970s. Singles manually completed forms that they filled out important tolerances and preferences, which were "matched by computer" to determine "compatibility" of the two love seekers. With the advancement of technology in the early 2000s, computer dating has become a seamless process.
Today's dating services are completely relying on technology mixed with people's desire for instant gratification. As a concept, mobile dating isn't really new. It's been around since the invention of mobile phones. Smartphones and apps are just the shiny new tools in the age-old quest for love.
There are many successful and countless Dating apps available on App Store and Play Store such as Tinder, SKout, Badoo, Lovoo , Coffee Meets Bagel, How about We etc.
What is so special about Dating Apps ?
Filling out long forms has become a boring concept. Instant Gratification is the new mantra.  With global connectivity and digital life, even though people interact around the globe – the fundamental concept of meeting one someone special in real time is always desired.  As people carry smart phones, they can take advantage of location services which lets users to find nearby users who can be a potential match according to their interests and tastes etc.  You see someone's picture and simply you can like or pass it.   If you like a profile picture, dating apps promote you to the person you liked to know their interest. If both of you like each other, then it's a match and you can start conversation and take the relation to next stage by mobile phone dating applications
Krify's Mobile Dating Framework: 
With the advent of these new mobile technology innovations, a lot of new ideas and concepts are getting evolved – around the dating platform.  Krify is actively engaged in some of these modern apps in both IOS Development as well as Android Development platforms.  Krify has developed an ultra modern dating frame work that can be readily integrated into any iPhone Apps or Android Apps to take advantage of this new mantra.  JLIKE is one such modern Jewish Community App which is already released in iPhone platform utilizing our Dating Framework.  Please contact our Sales if you have any interesting dating ideas or plans to implement quick solutions.
Thinking to Develop Mobile Apps, Web Apps or Design Website? contact now Krify for your Apps Development !