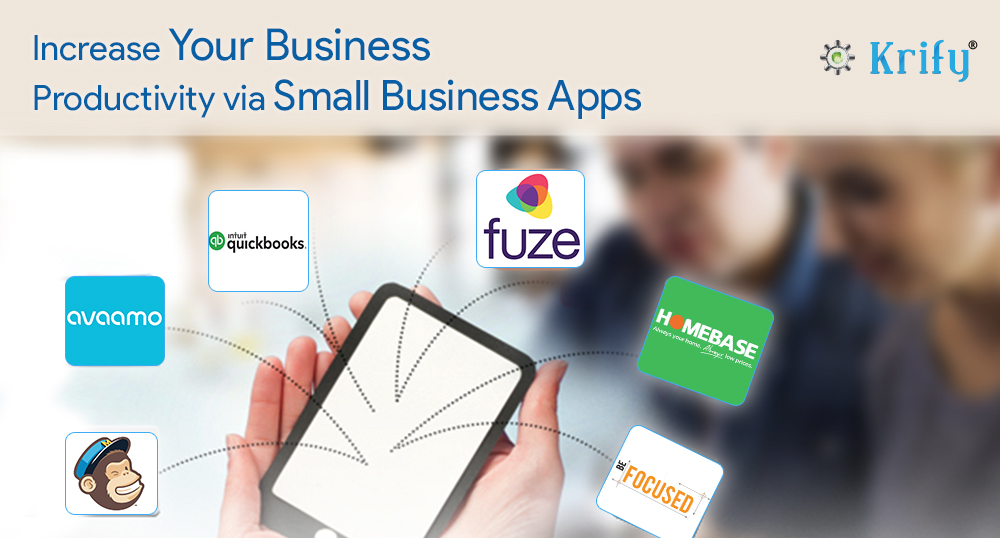 In a medium, to small-scale business, we do see a one-man show in-order to get extensive results. It's good that we are the one who initiated a great way to reach more. However, as you on a day to day business need more energy to contribute where a one man needs to have a support of 2+ from where we can get the real business challenges up.
           On this topic, We would share a few mobile apps that playing a vital role in a small business journey. Mobile applications play a vital role in the business sector. They are more powerful, prevalent and most important to run the business smoothly and also can change the face of business.
          A small business owner can easily automate tasks, stay organised and streamline the processes by using the apps. The business will be more efficient and productive using the apps. There are tons of apps on the market that helps to grow the business. If you run a small business, it's likely you are on to go a lot. It's important to have mobile apps to be on top of things. By loading the phone with some best business apps, you can turn the mobile into a toolbox which helps to run the business much better. Due to tons of mobile apps in the market, we made a list of most reviewed apps and makes the big difference in their workflow.
          If you are looking to increase productivity and organization or just want to be an entrepreneur this could be little easy by using the business apps. In this guide, we have focused on the best and most useful small business apps that offer a free or represent excellent value for money. Premium features will be available as you grow your business.
Want to improve daily operations? Organize your ideas? There's literally an app for that, which can krify develops as per your requirement. Want to have app for your business just fill the form here. We will come back to you.
Here are a few immensely helpful small business apps to have in general circumrotation as a small business owner.
MailChimp
MailChimp will boost your subscriber list, send out messages, automate your email campaigns and also useful to create beautiful newsletters. It also has excellent e-commerce integrations such as wooCommerce, magneto and many more.
MailChimp Key Features to consider:
Drag and drop email building will be offered.
Cannot lose touch with subscribers
Automation for email marketing.
Price: Free for new business plans. If the business that grows start from $10 it depends on the number of subscribers list in the email list.
Be Focused
Be Focused is a time -management tool which helps to manage your daily tasks and also to maximize productivity. It is an effective dedicated tool for working people.
Be Focused Key Features to consider:
Using this you break a single task into multiple tasks(smaller) and timed intervals.

We can schedule breaks either long or short.

Create daily goals.
Price: Free!
Wisely for Restaurants
Wisely for Restaurants is used to get recognised and rewarded at the restaurants that you like the most. By that, you can get VIP benefits also reservation priority reservations, and also get the special invitation for events at your favourite restaurants.
Wisely for Restaurants Key Features to consider:
Will be treated as VIP at any special events that are held by your favourite restaurants.

Will be given reservation priority.
Price: Free
Addappt
Addappt is the best apps that keep contacts up-to-date without being saved manually. Very useful and must have app.
Addappt Key Features to consider:
Better search

Easier friend search

Better experience for new user sign up
Price: Free
Avaamo
Avaamo is basically for business people. It is a secure messaging app built for businesses. In this, we can have the group chat and one-one chat with both internal and external teams to enhance productivity.
Avaamo Key Features to consider:
Group chat, 1-1 messaging, enterprise bots

Instant Messaging with delivery status

Off the record privacy mode and ephemeral messaging

Adjustable Timer for   messages

Enterprise Chatbots platform that utilizes AI, Machine Learning

Emojis and stickers suitable for Business communication
Price: Free
Inigo
Inigo allows to create and share a virtual business card by tapping the smartphone. It is a networking app.
Inigo Key Features to consider:
Provides real-time networking solutions

Avoid carrying business cards

Allows sharing of business cards virtually
Price: Free
Fuze
Fuze is the best app for video calling especially for business people. It allows anyone to attend the meeting for free and allows the user to host multi-party HD conferencing with up to 12 video feeds.
Fuze Key Features to consider:
User experience with reimaging

Fuze Web

Global reliability

APIs integration
Price: Free
Facebook Page Manager
Stay in touch with the customers through comments, messages and Instagram messages. This Facebook Page Manager will help the admin to connect their audience and keep up the action all from the app.
Facebook Page Manager Key Features to consider:
We can track how the business is doing with the page insight.

Stay focused with all of your page notification at one place.

Post updates, photos and videos straight from the phone.
Price: Free
Intuit QuickBooks
The Intuit QuickBooks App is very helpful to those handle huge accounts and ledgers. It includes robust tools to track the expenses and sales. Using this we can handle everything straight from mobile devices like sending invoices, accepting payments via email and many more. we can also share the accounts with your accountant for better prepared for tax time.
  Intuit QuickBooks Key Features to consider :
We have dashboard business insight

We can create invoices and get paid faster.

We can manage cash flow and expenses

We can view profit and loss.

We can handle everything with online accounting.
Price: It is Free to 30days. Later it will charge $10/month.
Homebase
With the Homebase, we can build employee schedules in seconds, track the team's hours and manage the labour cost in real time. This app allows chatting among the employees in real time and also messages between manager and employees. It can also manage request time off and trade shifts.
Homebase Key Features to consider:
Using this app we can track both paid and unpaid break

Retroactively edit employees shifts to ensure more accurate reporting.

It is the best app to use because using this we can access to schedules, shift trades, shift covers, time off request and many more.
Price: The basic plan is free. Essential plan cost $10/month/ location. Further plans will depend.
Obviously, there are several tools out to help you effectively manage your business. But you don't have to overwhelm yourself by investing in every option on the market. If you're brand new to the web, use Remixer to get your website up quickly. Then you can add some of the other options on this list to build your brand online. If you're are looking for a startup on-demand business clone apps check out here