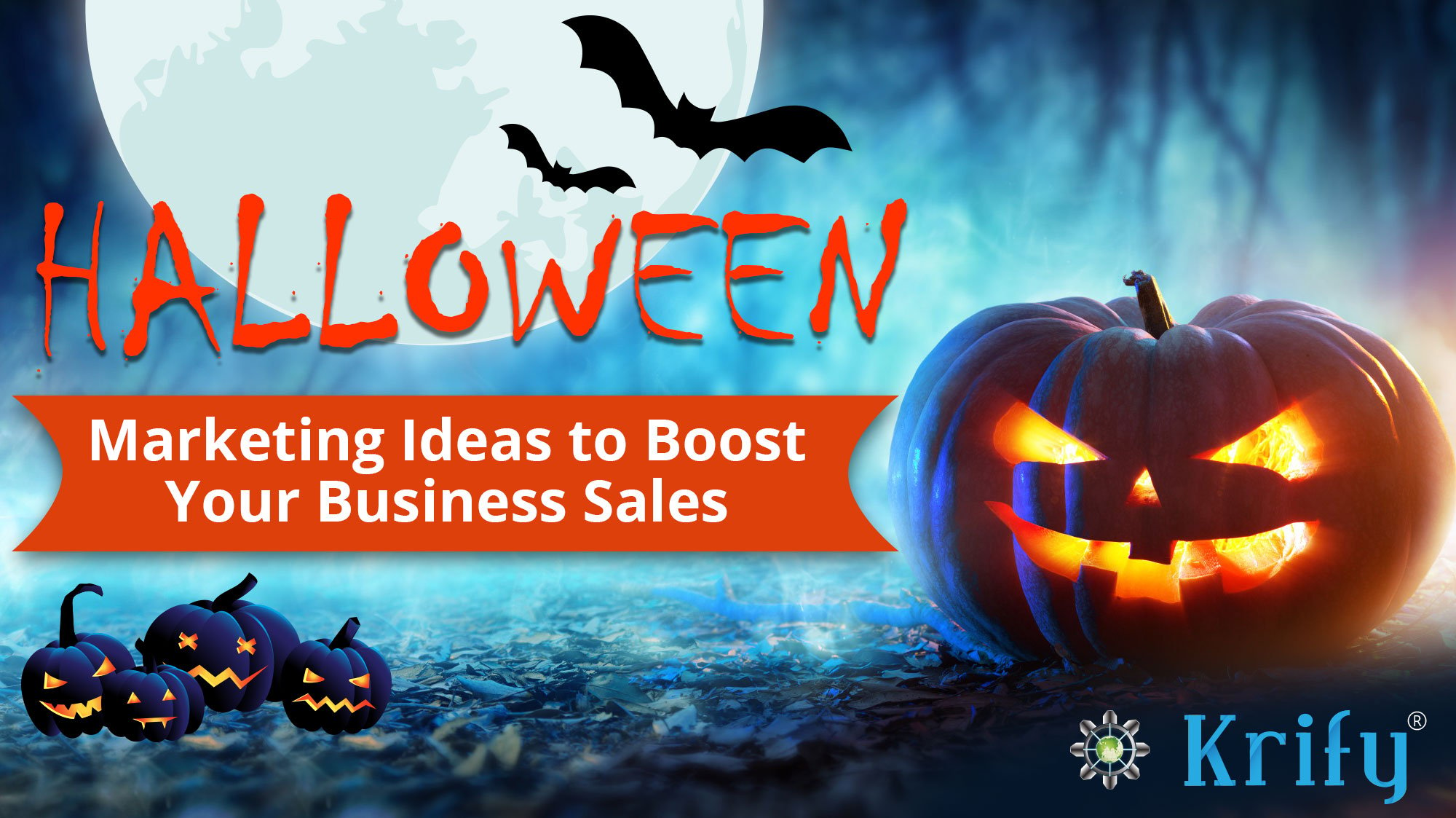 October is full of tricks, but your Halloween should be full of treats! Holidays always provide a great break to offer special sales, discounts and promotions. It's easy to grab consumer's attention with Halloween-themed marketing. Halloween is the best and perfect time for businesses to engage customers based on fun, get creative. A successful Halloween promotion will help you to drive more business and increase the audience. Some marketing ideas work better for some businesses than others, but don't get grieve: we're not short on ideas. We've got everything from online to real life, from highly tangled to the most basic to hang. Take a look below how to engage in the annual Halloween zeitgeist.
Top Frightening Ideas to Boost your Business Sales
Dress up the store
Feature Your Products in Halloween Themed Projects
Host a Costume Party
Offer Spooky Deals and Discounts
Trick or treat bags
Change your menu
Connect with other businesses
Host a Pumpkin Carving Contest
Host a special event
Dress Up the store
Never and ever underestimate the power of festive decorations. If you have a store, restaurant, cafe, stall or online website for your business that people can visit in any means or visit physically, add some spooky or autumn themed touches. Shoppers are most willing to pay real money when they are in the festive mood.
If you're doing online store, then you're saving much more than offline retailers in decorating and changing the look and feel of the store. Designing some exciting images on the homepage, installing themed add-ons, sending HTML emails are all easy and cost-saving ideas to prepare a spooky look for Halloween to impress your visitors.this is the great way to encourage people, particularly kids, want to pop inside to take a closer look. Also, don't forget to decorate the social media pages and emails! Just with a simple pumpkin or Frankenstein images will do the trick, as this shows the customers that you're much eager about the holidays and encourages them to visit you throughout the season.
Feature Your Products in Halloween Themed Projects
If it was an online store change the product list all related to Holloween products that impact the customer in many ways. If it was a retail store make edition product or menu items that will exhibit the Halloween spirit in your customers. It's pretty clear that the pumpkin spice craze is not going anywhere, and there are countless ways to incorporate ghouls, ghost, witches, and another spooky characters or items into your product plan.
Host a Costume Party
What's the best way to bring people into your store than to throw a Halloween party. Invite the people to your place of business to celebrate the spookiest month of the year. This is the great way to encourage the people to make a purchase- just think of offering some sales, discounts or promotions to those that attend(all this should be clear before the event).
Offer Spooky Deals and Discount
If it was an offline store You don't require a reason to provide discounts, but attaching deals to holidays is a great way to reason with your customers and push them to take you to peak on the offer in a way that feels special. It's probably an offer that sure not to scare the customer away.
If it was an online store run a limited time offer, launch a new product line or offer a promo code that themed to Holloween season. Promote the offers in the social media or by emails so that the customers will flock your website for Halloween discounts.
Trick or Treat bags
Now it is the perfect time to bring the neighbours together. Try to join with other local shops for trick or treat. This will help to create a more special and happier customer experience. In addition to this, you can hand over the business cards or discount vouchers to customers and also to the general public. This will hopefully ensure future sales. It's a good idea to have the simple carry bags with some Halloween themed version with your logo on them. It is the best thought of getting out your logo out in the wild night when a good majority of people will be out and about.
Change your Menu
If you're a business that sells food or drinks, what better way to attract the people in the spirit of Halloween than to introduce seasonally- inspired flavours? That includes the pumpkins, cinnamon and apples are especially popular at this time of year and a lot of businesses have capitalized on this by incorporating these flavours into their beverages or food items on a seasonal basis only, which is a superb way to bring in the crowd.
Connect with other businesses
Why not team up with other businesses during the Halloween season to offer sales, promotions and more? Getting touch with other businesses is a good idea to increase brand awareness and attract the attention of an even wider potential target audience.
Host a Pumpkin Carving Contest
Whether your business has brick and mortar storefront or online presence, anyone can host the pumpkin carving contest! Encourage the customers to show off their creative side by hosting an in-store pumpkin carving contest and also offer an incentive to the winners. Prizes like gift cards to your business, basket of your products. If you run the contest online make sure to pick the perfect hashtag to track entries on social media.
Host a Special Event
What should we do for Halloween day? Will soon be on people's minds. Answer them by hosting an event at your place. A costume party is always a no-brainer, but you could also do something a little more creative. For example, if you are a makeup studio. Then do the same with the costume-themed makeup. If you are a nail salon, maybe host the Halloween themed nail art lessons.
But make sure to get the word out early so people can plan for it. Promote your event via square email marketing tools and also trumpet it from social media.
To Conclude
Sales do not come in just because it's the season and people are supposed to shop like crazy. Online shoppers are smart and careful, especially when they can do all the search and comparison online. You need to get your sleeves up and start preparing for the big days. Before implementing the marketing ideas mentioned above learn the customer's requirements for this holidays and fill up your stock. Never matters what promotions or advertisements you're going to run, you can only win the game if you start from your customers.
Krify is a leading marketing agency offering the best services imaginable for businesses of all types and sizes! Get in touch today to discover more how our consultants can help you to boost your business. Contact us today!