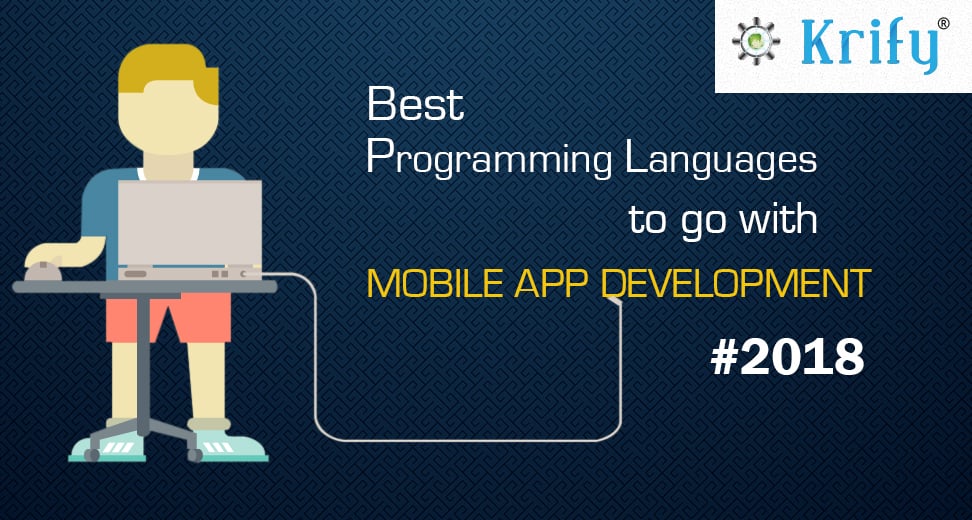 Today, We are coming a day early to the weekend with a Weekly roundup on the best Mobile App Development Languages to choose for the mobile app development in mid-2018 with a future focus on App and PlayStore updates followed by User-Centric-Design trends. No doubt, mobile app development is one of the most successful, emerging area in the software development arena. Even though this mobile app development industry started in 2008, it has survived a long ten years journey and has a bright future head – in spite of wearables and other apps.
The Best Mobile App Development Languages Available to learn and Develop your skills
Developers should be up-to-date with new skills and new programming languages (supporting both front-end and back-end) which are on high demand. Here is the list of programming languages of 2018 which are carefully composed. This would help you to select which programming language is best to choose for the application you are going to develop.
This would help you to select which programming language is best to choose for the application you are going to develop.
1. Java Programming Language
Java stands first in the most used mobile app development languages. It is very popular among developers as it runs on all platforms including Android. It is an open source language having several real-time users.
List of mobile apps developed in Java
WordPress
Telecine
2048 (I think all have played it)
VLC media player
Bitcoin Wallet
Advantages of Java
Stable and enterprise computing
Code reusability and availability of third-party libraries
Automatic memory management implemented by Garbage Collection
Simple, fast and multi-threaded
Disadvantages of Java
Occupies more memory compared to C and C
Compiler is not well optimized
Basic classes in the class library are lacking important features
Poor features in GUI
2. Python Programming Language
Python is one of the most popular high-level programming languages used in app and web development. It is easy to learn and have great readability also helps in creating android apps from scratch.
List of apps and websites developed in Python
Dropbox
Instagram
Food Plus
Quora
World of Tanks
Advantages of Python
Object-oriented programming is driven
Supports multiple systems and platforms
Provide large and extensive support libraries
Improved programmers productivity
Disadvantages of Python
Has limitations with database access
Slower in speed
Not good for multi-processor / multi-core work
Run time errors
3. PHP Programming Language
PHP is a server-side scripting language used to create android and ios apps. Apart from server-side scripting, it is also used for command line scripting and coding applications. The WYSIWYG interface offered by PHP gives developers a robust platform to create, test and deploy mobile applications.
List of mobile apps developed in PHP
E-commerce applications like Ubercart and Opencart
Facebook
School feed
Family Tree
Diamond dash
Advantages of PHP
It has a centralized database
Open source and powerful library support
Cross-platform and easy to use
Use wire-frame before coding
Disadvantages of PHP
Tough to use to program large applications
It is not extremely modular
Large applications are tough to keep up
Lack of options to modify core behavior
4. JavaScript Programming Language
JavaScript is used to develop hybrid mobile apps with the help of several libraries and frameworks like Node, Angular, jQuery and React. Due to its flexibility and easy to grasp syntax creating apps in JS is easy. Once coded it can be released in all platforms.
List of mobile apps developed in JavaScript
Facebook Ads
Bloomberg
Air Asia app
Soundcloud Pulse
Townske
Advantages of JavaScript
Fast and efficient
Saves bandwidth
Highly interactive and dynamic
Single code base
Disadvantages of JavaScript
May not have access to the latest APIs
Slow app performance compared to native
Client-side security
Browser support is not always the same for client-side scripts
5. C / C Programming Language
C is an old programming language which works well with modern developers. C comes from the family of C and it is an object-oriented programming language. These have tons of features.
List of applications developed in C / C
Adobe
MySql
Winamp media player
Advantages of C / C
High function libraries
Fast and efficient
Portable
Object oriented
Disadvantages of C / C
Code redundancy
Size of the program is incremental
Less efficiency
Lack of garbage collection
6. Swift Programming Language
Swift has the potential to reshape the future. It is used for building high-performance, powerful and interactive apps for IOS and Mac OS. There is an increasing usage across different platforms.
List of applications developed in Swift
Flappy IOS
Wire iPhone
Yep
WeChat
2048
Advantages of Swift
Extremely easy to learn if you know objective C
Improved safety and performance
Open source and easy to learn
Need less coding to develop an app
Disadvantages of Swift
The language is still young
Limited talent pool
Lack of support for earlier IOS versions
Poor interoperability with third-party tools and IDEs
7. HTML5 Programming Language
HTML5 is the fifth version of HTML which is used to build web-based mobile apps. It alone cannot develop the app, instead, it should be used with other languages like JavaScript. It supports multi-platform functionality.
List of applications developed in HTML5
Zoho books
Netflix
LinkedIn app
Zoho docs
Advantages of HTML5
Cross-browser support
Develop games using canvas tags
Easy and clean coding
Supports videos and audios
Disadvantages of HTML5
Takes more time to build mobile applications
Doesn't have adaptation control
Have media licensing issues
Security elements offered are restricted
8. C# Programming Language
C# is a multi-paradigm programming language, which is component and object-oriented. It is designed by Microsoft as a part of the .NET framework. It is used to build native mobile apps on Xamarin for both Android and IOS instead of writing separate apps in Java and Swift.
List of applications developed in C#
OLO Food App
Foundbite
Storyo
Captio
Vanderlande
Advantages of C#
Object oriented language
Safer to run
Automatic garbage collection
More legible coding
Disadvantages of C#
Slower to run and compile
Less flexible
Doesn't support multiple inheritance
No templates and therefore type-safe collections are not easy
Weekly Top Mobile App Development Language Take-Aways: Although you may get the idea about the programming languages for building the mobile apps in 2018, it is not easy to pick a specific language for your app. Hire a professional mobile app developer who will understand your real requirements and design an application which communicates clearly with your target audience. Krify is one of the leading mobile development companies having a professional and well-established team. Get mobile application as per your business requirements at most affordable prices. High quality is our assurance and customer satisfaction is our priority. Happy and looking forward to serving you.
Do you know how we work?
Contact us today on a click away.!